Shopping Cart
Your Cart is Empty
There was an error with PayPal
Click here to try again
Thank you for your business!
You should be receiving an order confirmation from Paypal shortly.
Exit Shopping Cart
Thank you to Eastwood Village Gifts and Crafts for now stocking my cards and prints.   Original paintings can also now be seen at this store, a different one each month.  This month the Bruthen Beauties Stock up at the Store is on display.  For a unique gift and/or one of my handmade cards Eastwood Village Gifts and Crafts is the place to go.
New Artworks have now been posted on my web site and on Redbubble.  Three of the new paintings are the Real Beauties of Bruthen.  These paintings feature many of the real people who so generously give of their time and energy to making our town a great place to live.  Check out the new works on my home page or search for marg pearson on Redbubble.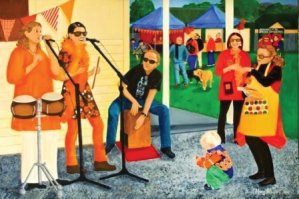 Originals of many paintings are for sale.  Message me for a price.  Or from Redbubble you can order art prints, framed prints, canvas prints, tote bags, cushions, ipod and iphone covers and cards.  Though the cards are best ordered via this website (they are better hand made ones).  Or better still visit the information center or Le Cafe in Bruthen, Collins Bookshop and East Gippsland Gallery, Bairnsdale,  where a great selection of most cards and some prints are available.  Cheers, Marg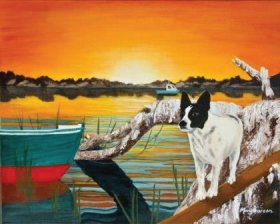 Maggie of Marlo
I found some great photos on the web taken by Tanya Coleman, in Marlo.  I emailed Tanya who took the photos and asked her if I could paint them.  She was happy for me to do this.  As it turned out the dog starring in the photoes used to belong to a friend of mine, he had given Maggie to the photograhper about 5 years ago.  Small world isnt it.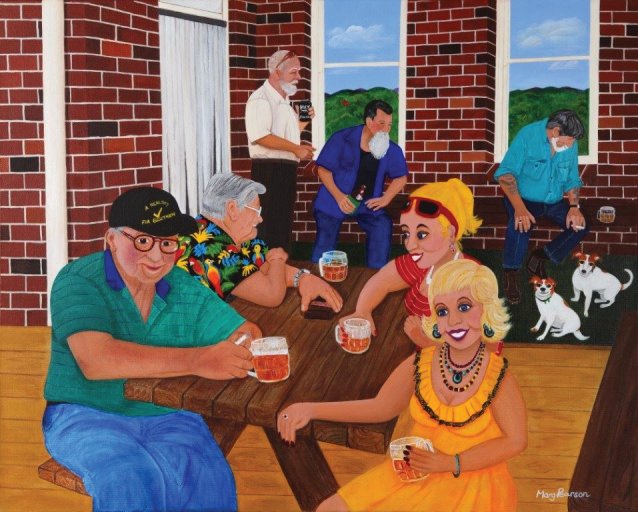 Finished at last.  This is a regular Friday night scene at the Bruthen Inn Hotel.  Two of the Bruthen Beauties have a beer with Eric, Hans, Peter, Rob and Mick.  The cheeky looking dog is Kiley, the handsome one Buff.  
For Canvas Prints of this painting 40 X 50 cm $140 please drop me an email at margpearson.com.au

Other print sizes and framed paper prints available from red bubble. 

Beautiful sunshine in the studio today, after it rained more than 200cm of rain ( 8inches) in the last week or so.  So yipee, after about 5 weeks time out with the shingles, then the rain, it was back to the easel today, to continue with Beautiful Blokes at the Pub.  
But meanwhile, while it rained, I was a busy little beaver (oops forgot, not so little anymore).  I made up about 300 cards and they look so colourful.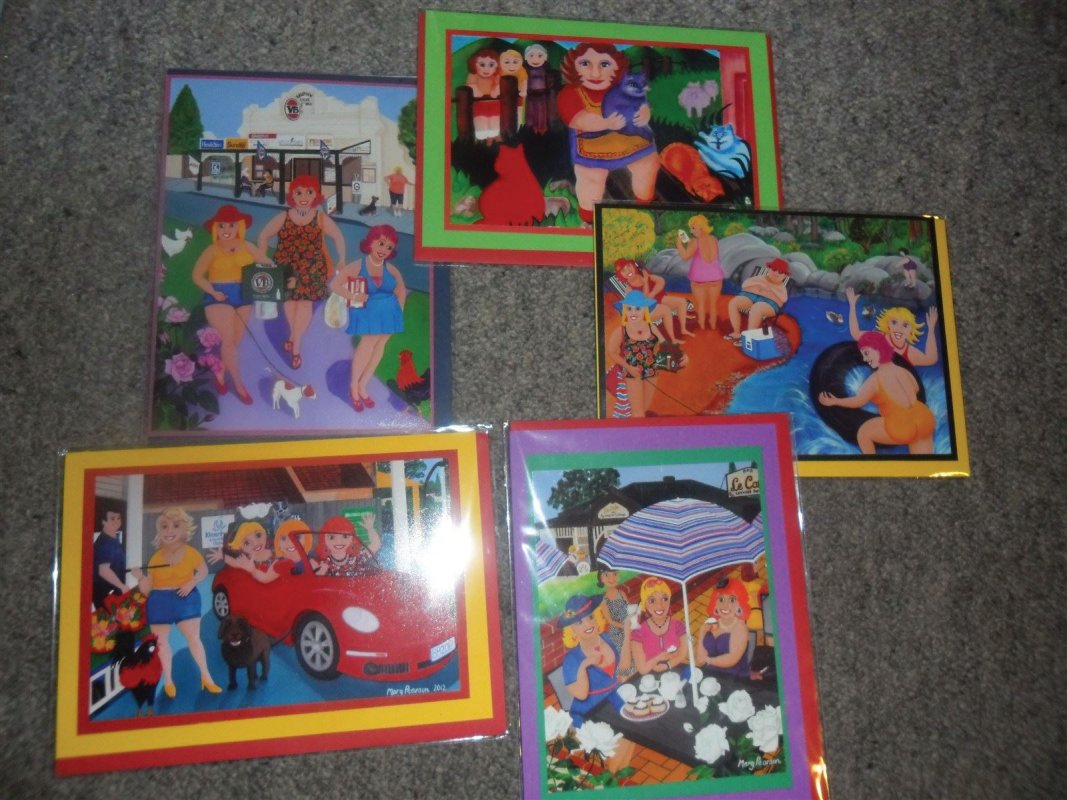 As a little  winter cheer I thought I'd offer my blog readers a special discount on cards, including some of the new BB's Stock up at the Store, Le Cafe,the new BB Raging at Ramrod and BB Look out World here we come.  
SPECIAL PRICE AVAILABLE TO BLOG READERS

Until Sept 1st 2013;
6    Colourful Bruthen Beauty Cards $21.00

10  Colourful Bruthen Beauty Cards $30.00
Add $2.50 for postage within Australia.  Email me for postage rates to other countries.
For orders email
[email protected]
and let me know if you have any preferences for the mixture or if you would like me to select them for you.
for all of you who are just busting to see the two beautiful blokes at the Pub's paintings I'm afraid to say that there is a temporary hold up.  Due to currently experiencing a painful case of shingles I've been too sick to  paint for two weeks now.   (Wonder if I got all of those to, too and two's correct, not that most would know these days I suspect).  But I am determined to get better just as quick as I can so I can finish these two paintings.  I think they will be very popular because I already have orders for 2 canvas prints of each, and they're not even finished yet.   Here is a progress pic of the second painting 'More Beautiful Blokes"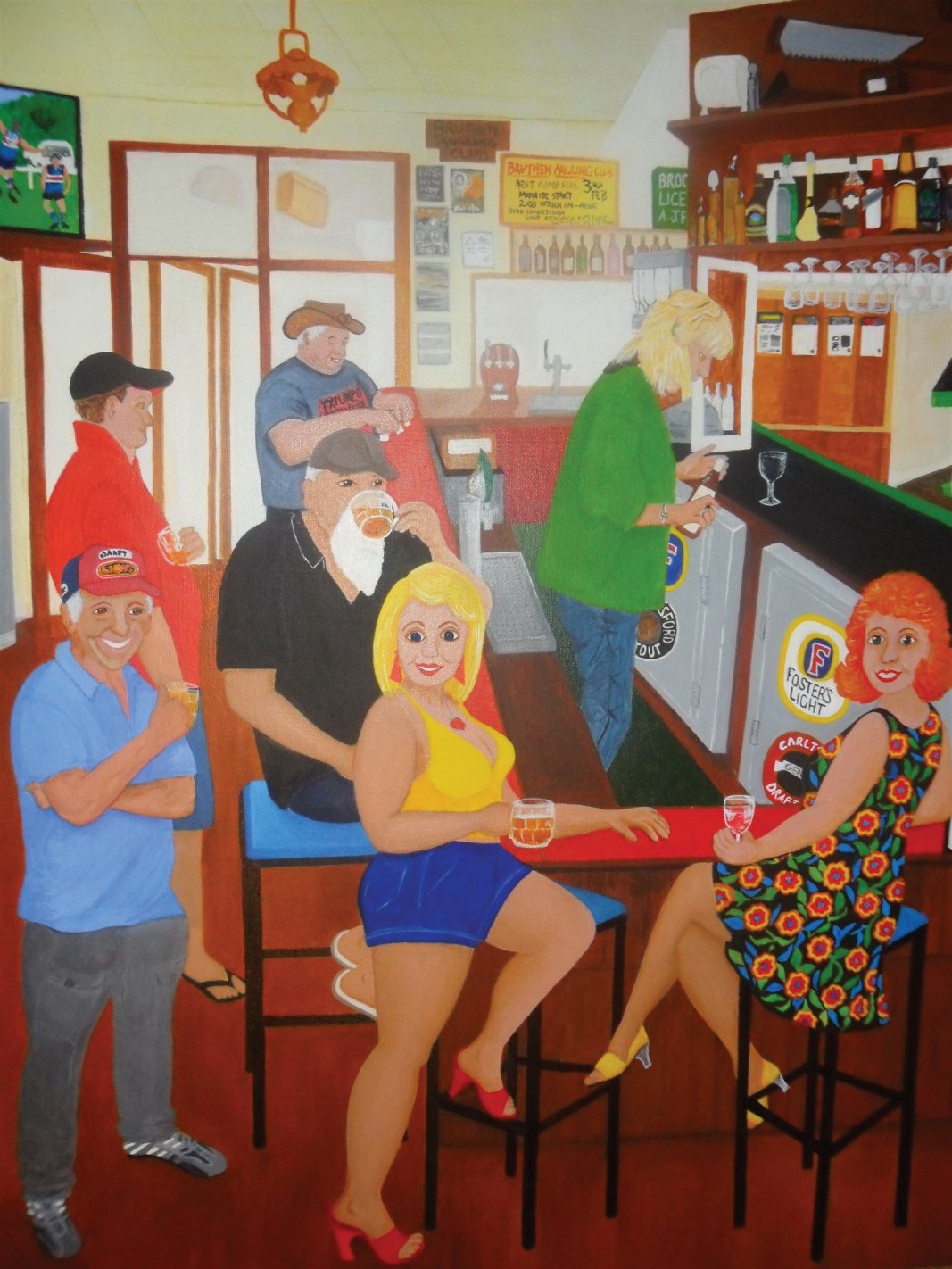 /