Shopping Cart
Your Cart is Empty
There was an error with PayPal
Click here to try again
Thank you for your business!
You should be receiving an order confirmation from Paypal shortly.
Exit Shopping Cart
for all of you who are just busting to see the two beautiful blokes at the Pub's paintings I'm afraid to say that there is a temporary hold up.  Due to currently experiencing a painful case of shingles I've been too sick to  paint for two weeks now.   (Wonder if I got all of those to, too and two's correct, not that most would know these days I suspect).  But I am determined to get better just as quick as I can so I can finish these two paintings.  I think they will be very popular because I already have orders for 2 canvas prints of each, and they're not even finished yet.   Here is a progress pic of the second painting 'More Beautiful Blokes"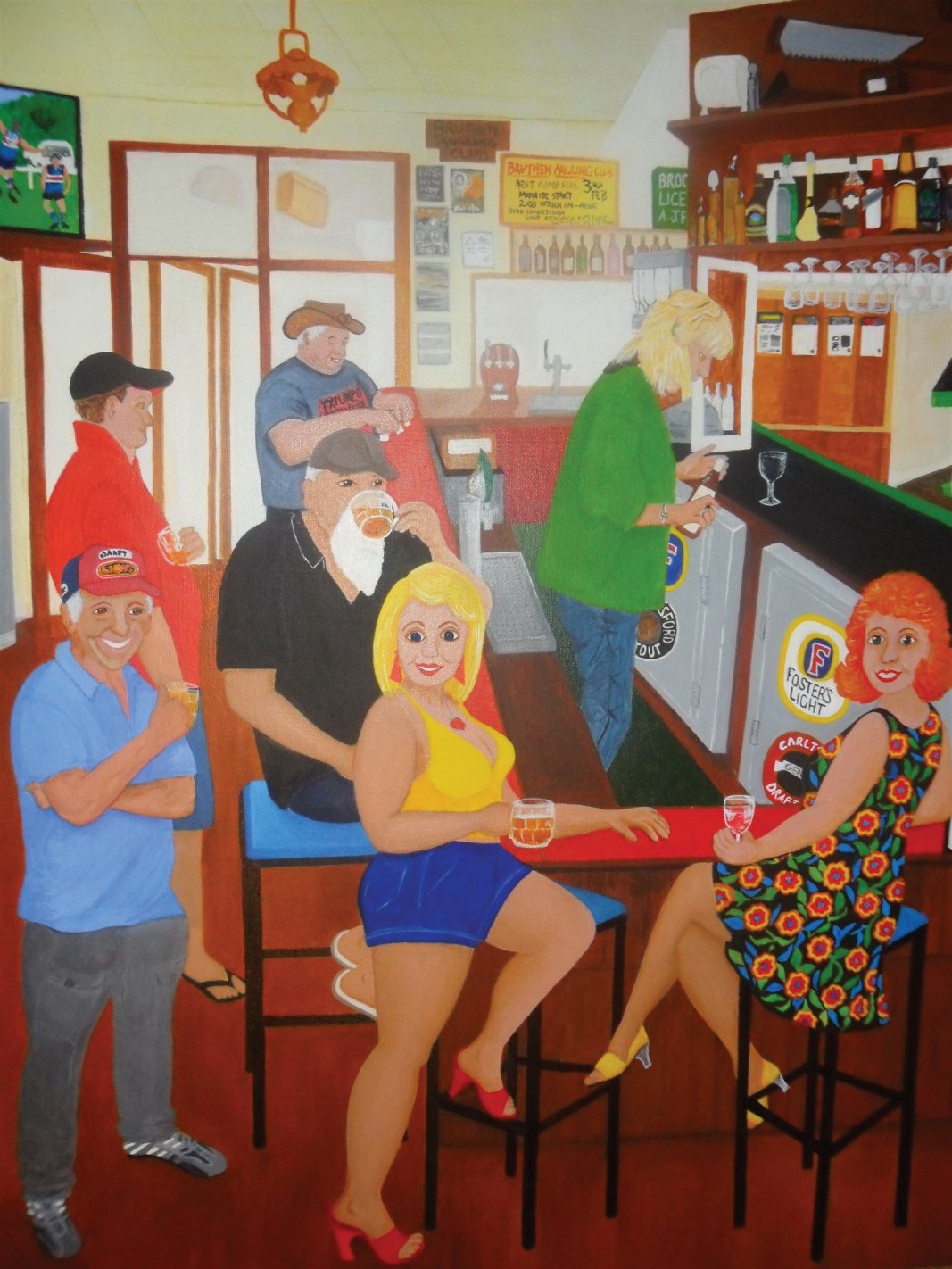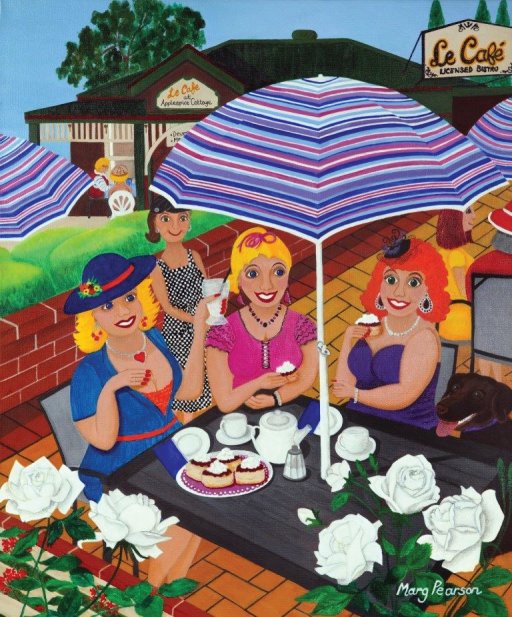 How exciting.  Le Cafe, a unique little cafe in Bruthen (where you can get the best scones, with lashings of home made jams) is now featuring lots and lots of prints of my artworks.  To celebrate this during Autumn visitors to Le Cafe who mention this blog, can purchase a half price Bruthen Beauty magnet, a half price BB card and /or receive $15 discount off one of the great canvas prints of my artworks.  So if you're in Bruthen treat yourself with a visit to  Le Cafe - In the main street, opposite the information centre.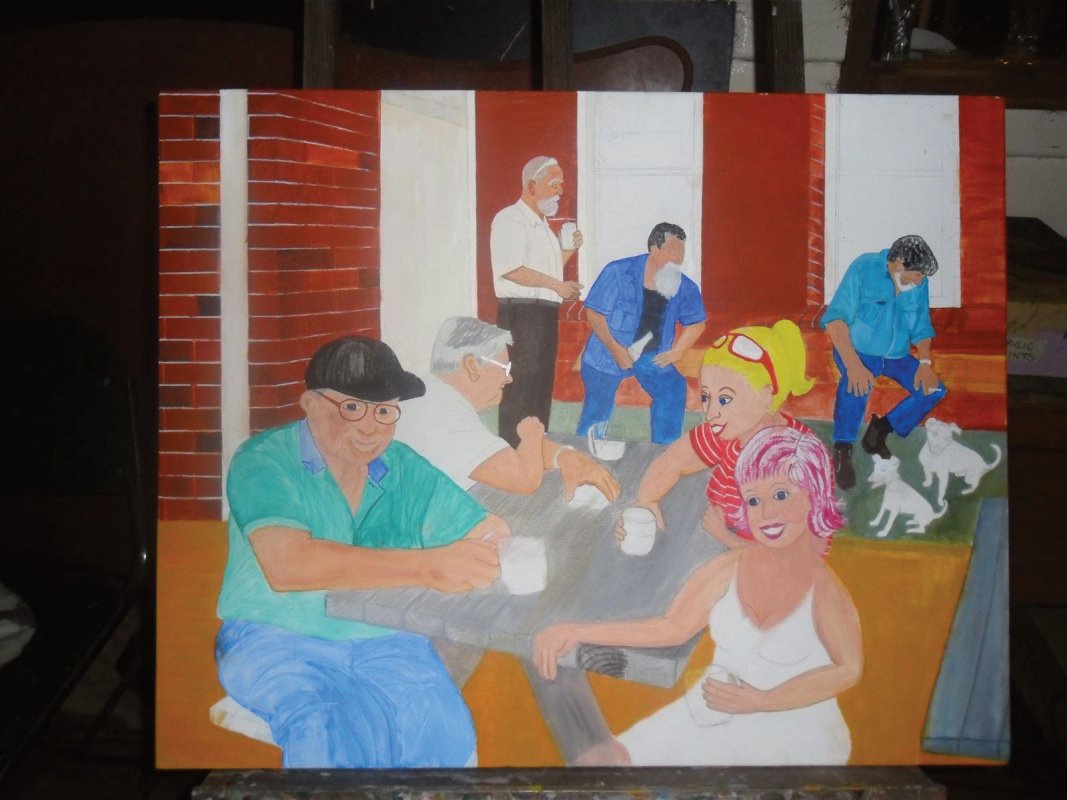 After some requests to do some paintings suitable for 'blokes' I tagged along with hubby to the Pub on a couple of Friday nights.  There were so many great Blokes there that I have to make it into two paintings.  I have the first coat nearly finished on the first one and most of the drawings done for the second one.  This preview is of the first coat of

Beautiful Blokes at the Pub

and it includes such identities as Eric, Hans, Peter, Rob and Mick with two Bruthen Beauties and Micks dogs. 

NEARLY 1000 VISITORS TO BRUTHEN BEAUTIES

It is so exciting to see so much interest in my web page.  Since beginning in November last year it has now had 907 visitors, with now about  20 each day. 





To celebrate 1000 visitors  I thought I would give away some cards and magnets to 5 lucky visitors to my guest book.  To be eligible to win just leave me a message in guest book and I will email the lucky winners once 1000 visitors is reached.





TWO NEW ADDITIONS TO BRUTHEN BEAUTIES




I have recently completed two more Bruthen Beauties paintings.  BB's stock up at the Store and BB's Rage at Ramrod Creek.  These have now been photographed and I am working on making up cards and magnets.  Prints of these, and all other artworks are available on Red Bubble.

I am planning on having some Canvas Prints available from my website soon.




So thanks for your interest everyone, its really encouraging.  I'll be back soon with a sneak preview for you of my newest painting, the Beautiful Blokes at the Pub.





Great, the shopping cart is working.  How clever is that.





Write your post here.Sucessfully launched Bruthen Beauties website today.  Welcome if you have found me already.  You are able to purchase cards and prints of these artworks from

http://www.redbubble.com/people/margpearson/portfolio

you may have to copy and then post this link into your browser.  Hang on I think I just worked out how to insert a link.  Here goes:  Yes think its linked now. 

0

/